"Insurance by Day! Web by Night!"
I have been learning Web Site Development and Programming in my spare time. Now, I am excited to share what's new for 2023.
Athena Insurance and Financial Services has been licensed in all States in the United States for a few years now.  The exception to a State is Hawaii. We are not licensed in Hawaii by choice. Both Hawaii and Alaska are tight-nit communities of do business with locals and we are thus limited in markets in those tow States.  We sill operate in Alaska but primarily for Logging and Timber insurance.
The years of "hurdles" has been many. Since around 2012 the number of insurance companies writing fire/home insurance in the foothills has really dwindled. And as we strived to re-write the home, auto and dwelling insurance to another carrier, Merced Property & Casualty, the cost and stress of the constant time consuming work did not pay off!
Merced Property & Casualty went Bankrupt and took nearly 70% of our personal lines income out of play in a single stoke.  The immediate aftermath was destructive to me and the agency.
Then, Covid, Omicron and employee retirement and more…  It's been a rough and terrible decade for me and the agency.
"But love and I had the wit to win… we drew a bigger circle and brought them in!"
Constant Prayer, long hours and determination are beginning to pay off! But I really owe much thanks to those clients that have hung in there with me for nearly 30 years.  I thank you, thank you and thank you for your loyalty and dedication.
So, happy 2023 and here it comes.. I am excited, hopeful and determined. And now, I am ready to share it all with you.  For those interested in our web projects take note, my other company is called S Valencia International…
"Dare to Dream  Your Dreams"
---
First Up! WhatsHappeningToday.com! Part of the Events Happening Network
WhatsHappeingToday.com "Part of the Events Happening Network!"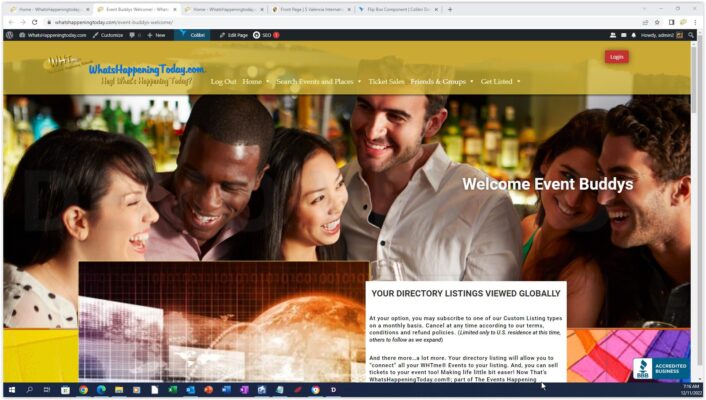 WhatsHappeningToday.com is an Event & Ticket Sales site with an added boost of selective and customized business listing types.  My projected launch date is 03/01/2023. I would humbly request some moral support in the tune of registration and likes.
I also have a Facebook Web page too.
Here is a short list of the features:
Selective and Customized Business Listings
And, all post connect to your Custom Business Listing. And there is more.. ticket Sales. Check out my site.
What Does This Have to Do with Insurance?
I am glad you asked. From a development stand point I anticipate 30,000,000 per month across my network of sites. That is a lot of traffic. And, I write insurance for all the Custom listing types and Event Insurance. So, the answer is?  It has everything to do with marketing and advertising.  So, next up!
---
AssociatedLoggers.com