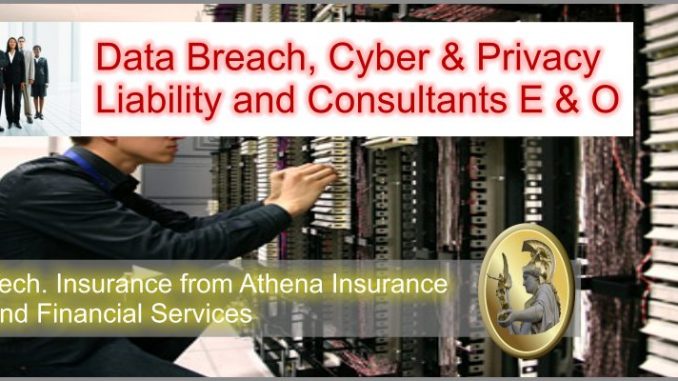 Technology and Cyber Liability Insurance
Cyber and Privacy Liability
Leveraging nearly 20 years of Independent Insurance Agency experience Athena Insurance and Financial Services provides Technology and Cyber Insurance and Professional Errors & Omissions protections. Are you covered?* (Quote Now)
Athena Insurance operates with the leaders and experts adept at designing large-scale cyber programs for public entities and regonal or national business franchises that accomplish the following goals:
Leverage critical mass to secure reduced premiums vs. open-market pricing
Obtain coverage and limits that appropriately address the unique nature of the group
Streamlined the underwriting process
Available Coverages: (Quote Now)
Privacy Liability
Network Security Liability
Notification Expense
Regulatory Proceedings
Regulatory Proceedings
Brand Protection/PR
E-business Interruption
Cyber Extortion
Target Classes from Athena Insurance and Financial Services**
Professional Services Firms such as legal, IT, ect (except legal)
Public Entities such as municipalities, counties, ect.
Medical – hospitals, private practice, etc.
Education – school districts, colleges, private schools
Hospitality – hotels, restaurants
Data process controls
High traffic websites and blogs
Social Networking / Dating Sites
Manufacturing
Financial Institutions / Community / State / Credit Unions
Construction
Utility Companies
Government Agencies
Charities & Non-profits
Insurance Brokers
Insurance Companies
Real Estate
Retail
Telecommunication
E-commerce
Hotels & Hospitality
Restaurant
Gas Station
Car Dealership
Pharmacy
Domestic Services
Contractors
Investment Advisors
CPA
Mortgage Broker
* Insurance Services provided by Athena Insurance and Financial Services, P.O. Box 390, Pine Grove CA 95665. Licensed number 0588228 a license Agent and Broker. For more information contact Athena Insurance and Financial Services at 888-299-1870 or visit their site at AthenaInsurance.com. More Information can be obtained from the California Department of Insurance at www.insurance.ca.gov.
** Coverages, endorsements, exclusions will vary from Insurance Company to company and State by State.